Mahasiddha – Yoga School in Chiang Mai, Thailand

Yoga Classes in Chiang Mai
Our spiritual yoga studio offers an oasis of tranquillity. Our Chiang Mai yoga studio is home to classes in authentic Yoga. We also provide inspiring workshops, lectures, and retreats. Here you'll learn the old spiritual yoga secrets come to life, through simple but spiritual training techniques.
Through the practice of Yoga, we can become aware of who we truly are and who we can become. We invite you to try and discover the amazing transformations that are possible for you.
Find our yoga studio on 49 Chang Lor Rd, T. Haiya Mueang, Chiang Mai Thailand or call us at 0613-784-194 or 0625-833-285
Upcoming events
Check below for our upcoming events, both classes and workshops. For a detailed description of the special events, as well as for signing up, please access appropriate section in the top menu.
Yoga & Tantra Classes
1 class: 250 Bt
monthly pass: 700 Bt
double monthly pass: 1200 Bt
*monthly pass holders receive 20% discount on Saturday events

Workshops
regular workshops (3h): 250 Bt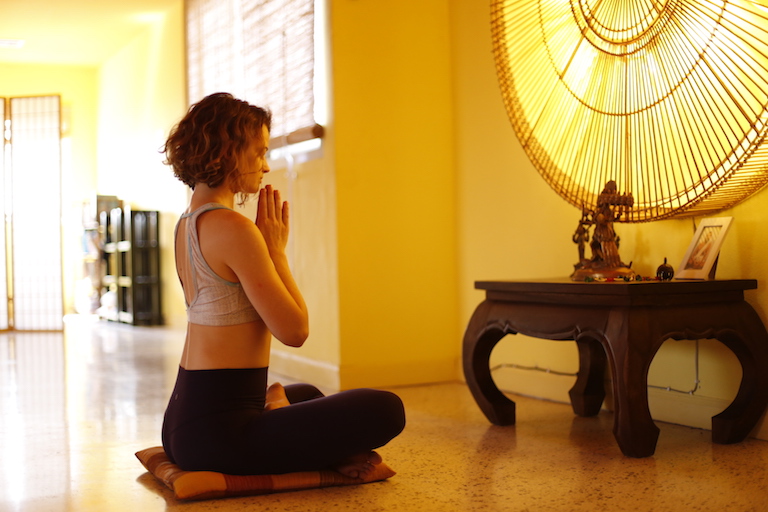 Check out our blog for insights on yoga, and more!
If you're looking for amazing yoga and wonderful meditation, Mahasiddha Chiang Mai is the best. I have attended both the weekend getaways and the classes many times. My body feels great and more energized after the end of each class.
The group activities really touch your heart. The teachers are all fantastic. I absolutely recommend it.
Niw
Just a few months of intensive weekend events and classes at Mahasiddha have massively changed me…to a point that I probably wouldn't have reached after 20 years of my "usual" life.
I've tried out many, many yoga schools, styles, and teachers; read many books; attended seminars, and online courses. None of them reached my core and resonated with my being in a way that the teaching of Uriel and Blandine does. 
Dennis
Two weeks after the Polarity Event, I can now reflect back on it as being one of the most profound life changing experiences I ever had. Blandine and Uriel are a blessing!
Not only do they guide you through yoga, meditation and the basics, but they LIVE what they speak about! Their way of teaching is authentic, pleasant, engaging and fun. I could listen to them for hours, sucking all the knowledge in.
Natalia B