Tantra Intensive – weekly classes
Every Thursday, 5.30 – 8.00 PM

Join us for our weekly class to see what we're all about or be a part of our on-going group as we explore the depths of Tantra, delving deep into the 7 chakras, unlocking the mysteries of our minds and bodies, revealing their hidden potential. Read more

Esoteric Yoga - weekly classes
Every Tuesday, 5.30 – 7.30 PM

This course is a genuine spiritual path unfolding in an ongoing course that dives into new theory and practice every week. If you are looking for deep knowledge of yoga, profound practice, deep transformation, amazing explorations of your own inner world, this is your course :-) Read more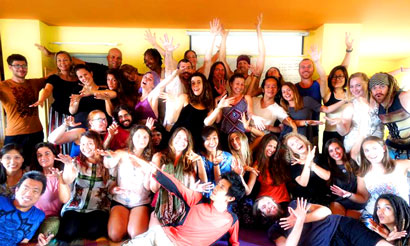 ... and even more classes!
Depending on the season we might have free yoga classes on Sunday as well as classes, talks and lectures on a variety of subjects and more. For more check out our facebook page. Wanna book a private yoga session? Ask for quotes at tantrayogachiangmai@gmail.com
Tantra Intensive Course 
The tantra course is an intense on-going class, which focuses on elevating consciousness and living a full, abundant life, walking a yogi path to profound spiritual development.  
Join us for our weekly class to see what we're all about or be a part of our on-going group as we explore the depths of tantra, delving deep into the 7 chakras, unlocking the mysteries of our minds and bodies, revealing their hidden potential. 
Contrary to popular belief, Tantra is not just about sex. Sacred sex is an element in tantra but it is only a part of the great richness of the knowledge and practice which tantra has to offer. The tantric path is a beautiful combination of physical, sexual, emotional and spiritual awakening that will bring you closer to yourself and the divine.
Learn from our friendly, welcoming and knowledgeable teachers with 17 years of direct experience.  They will guide you through authentic tantric theory, training and practical applications from the ancient traditions that you can include in your daily lives to bring about major transformations.  
Each class includes the following:
Opening meditation with music designed to awaken the heart and unite the group
Specific yoga asanas, pranayama and meditations done in the tantric spirit, facilitating a direct experience of the tantric teachings, opening the channels for energy to flow freely
Detailed lecture on the topic of each specific class – 5 weeks dedicated to each of the 7 chakras in the first year of training
Questions and answers with discussion time for the group
Closing meditation
Printed course materials provided 
Benefits of studying and practicing tantra are vast and include inner peace, self-confidence, enthusiasm for life, greater understanding of self, an accelerated spiritual path, a contented state of happiness and a welcome sense of community.  
Joining this course
No need to bring a yoga mat, cushion or blanket all are provided

Wear comfortable clothing that you can easily move around in

Try not to eat a heavy meal within 2.5 hours of starting

Bring paper and pen to take notes

Arrive at least 10 minutes early so you can sign in and prepare
I really enjoy these classes. The techniques I have learned have allowed me to remove negative mind states when they arrive in my daily life. I would recommend it for anyone interested in improving their mental state or personal transformation.
Matthew 26, USA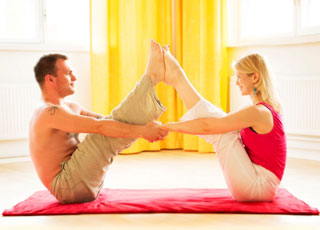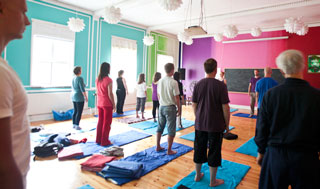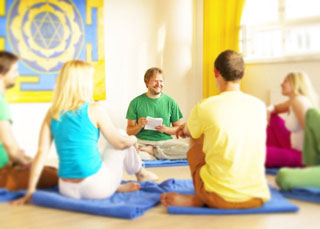 Esoteric Yoga Course … with a tantric spark
In this weekly Esoteric Yoga, we'll explore time-proven tools and practices that the great yogic mystics and sages have used to reveal the Divine as the ultimate, true reality. It's a journey that we will undertake entirely – body, mind and spirit – to arrive at the destination of who we truly are.
This on-going course is in Europe already in the 30th year of study exploring each week new techniques, teachings and esoteric yoga aspects. If you are looking for deep knowledge of yoga, profound practice, deep transformation, amazing explorations of your own inner world, this is your course. :-)
Learn practices that for thousands of years have been used by mystics, saints, and tantrics to achieve extraordinary results and reach the highest peaks of consciousness. Experience an extraordinary combination of traditional yoga methods and knowledge with a tantric outlook meant to bring a healthy development for each level of the human being: physical, emotional, mental, intellectual and spiritual – in an ongoing course with new theory and practice every week!
About this course:
study and practice of meditation and its steps

in-depth study and practice of each body pose (asana) with effects on all levels, counter-indications and other remarks

study and practice of restorative yoga techniques and healing practices

study and practice of pranayama technique (simple and complex) from the 2nd year of study

initiation in secret mantra-s of different traditions
study of the moral principles of yoga and the Yoga Sutra-s of Patanjali
study of Raja Yoga, Jnana Yoga, Hatha Yoga, Bhakti Yoga, Karma Yoga, Mantra Yoga, Maha Vidya Yoga, Svara Yoga, Laya Yoga, Yantra Yoga, and more
questions and answers with discussion time for the group
written course materials for every technique and subject every week
The classes are facilitated by qualified yoga teachers of the International Yoga Federation ATMAN.

Joining this course
No need to bring a yoga mat, cushion or blanket all are provided

Wear comfortable clothing that you can easily move around in

Try not to eat a heavy meal within 2.5 hours of starting

Bring a pad and pen to take notes

Arrive at least 10 minutes early so you can sign in and prepare
Sunday Free Yoga Classes
Suitable for beginners, interesting for advanced practitioners
Join us for a try out free yoga sessions about once per month as part of our free Sunday events (check out schedule above or on our facebook page) and discover the secret link between body and mind. Learn how bodily postures can change your inner state through Hatha Yoga and meditatoin. Each class contains a little lecture, a full yoga practice and a short meditation that give …
Health to your body. Peace to your mind. Enthusiasm to your heart.  And freedom to your spirit.
Joining this class
No need to bring a yoga mat, cushion or blanket all are provided

Wear comfortable clothing that you can easily move around in

Try not to eat a heavy meal within 2.5 hours of starting
The benefits of joining our courses
Achieve physical, emotional and mental harmony and health

Awaken your latent potential enabling you to fulfil your dreams and goals

Complete holistic approach, where you can learn everything from postures to how to integrate yoga practice into your daily life

Continuous learning process, with each lesson building on the previous lessons.

You can always take things at your own pace

Benefit from experienced teachers. Our teachers have been practicing for many years and have completed extensive 3-4 years long teacher training courses.

In all courses and lectures and workshops you can meet and interact with like-minded people with similar aspiration
I love how profound the teachings at this studio are! The teachings go so much deeper than mere gymnastics. If you want to learn about the vast and deep system of yoga, and especially the tantric system, then this is the go to place in Chiang Mai.
Peter, The Netherlands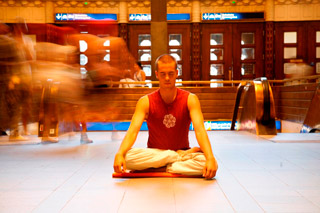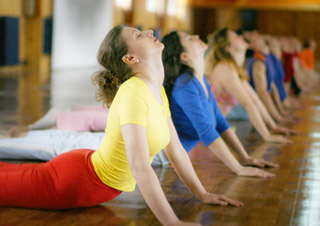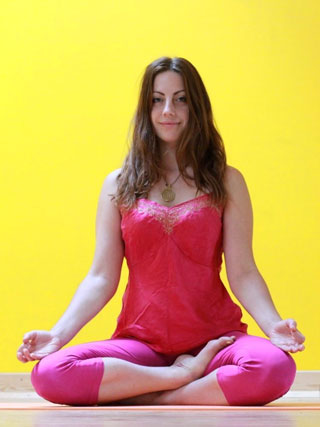 Free Events & community activities
Check our weekly schedule of Facebook for free events such as:
Free Yoga & Meditation – Try out some yoga with us to get to know our style. Every now an then we offer free yoga sessions on a Sunday so you can check us out! ;-)
Free Meditations – If you attend our classes, you'll get the chance to meet our community. We meet every morning to meditate together, so join us if you feel this call!
Free Movie Nights – Every once in a while we host a free movie night at our studio. We watch our way through a variety of wonderful documentaries, feature films and clips. Bring your friends along
Free Kirtan – Enjoy devotional singing of mantras and soulful songs in a wonderful atmosphere. Sing with us to awaken the heart and to praise the beauty of this universe. All are welcome!


Private Yoga Classes
Customized for your body, specific needs, and schedule!
We offer private classes with one of our certified yoga instructors. We can come to you (availability is very flexible) or hold the class in our yoga studio just south of Chiang Mai's Old City (open times depend on class schedule).
Message us to set up the perfect time and practice for you! 
Please include: how many people, where you want the class, if you need transport to our studio
Or call us: phone 0613-784-194
Disclaimer for people with mental health issues
Kindly note that for people who suffer from mental health issues, or are currently on antidepressants or other psychiatric medications, we strongly recommend not to join our courses or retreats. For those who do, however, decide to join, they do so on their own responsibility.