THE ESOTERIC YOGA COURSE
Learn how to systematically experience higher states of consciousness
This course is a genuine spiritual path that takes committed spiritual seekers on a journey through extraordinary mystical states to the revelation of their essential, supreme nature.
Every Tuesday 5.30 – 8.00pm Bangkok Time
In this weekly Esoteric Yoga Course we'll explore time-proven tools and practices that the great yogic mystics and sages have used to reveal the Divine as the ultimate, true reality.
It's a journey that we will undertake entirely – body, mind and spirit – to arrive at the destination of who we truly are. During each weekly class we dive into specific theories and practices.
If you are looking for a deep knowledge of spirituality combined with a profound practice, a deep transformation, and amazing explorations of your own inner world, this is your course :-)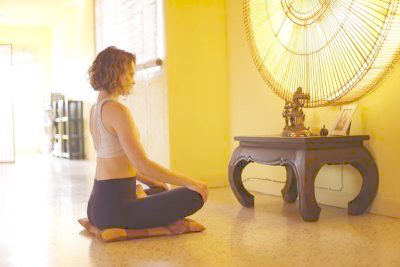 This course offers you:
Weekly 2.5 hour classes with theory and practice

Highly efficient and practical methods and exercises

In-depth study and practice of each body pose (asana) with effects on all levels, counter-indications and other remarks

A profound understanding of various yogic paths and mystical traditions 

Live Q&A sessions with the teacher, thus receiving personal guidance and feedback on your practice

Exceptional initiations into the art of meditation, yoga and tantra

Certified teachers with minimum 5 years of experience
You will learn how to:
Practice asanas in a deeply efficient way, combining relaxation with awareness

Correlate each posture with the awakening of a particular chakra

Experience profound mystical states through various spiritual practices

Use the Law of Resonance in order to achieve extraordinary spiritual transformation

Work with and control your inner energy in a harmonious way

Awaken latent capacities and expand your consciousness

Focus your awareness, concentrate and meditate

Live a life of depth and dedication to your highest ideals