UPCOMING RETREATS & INTENSIVE MODULES
MEANING AND PURPOSE RETREAT, October 23 – 27, 2020: Take a journey within to discover your life's meaning and purpose. Read more
TANTRA IMMERSION LEVEL 1, November 14 – 18, 2020: Get introduced to the fascinating world of Tantra and learn how to live like a tantric. Read more.
Yoga, Tantra and Meditation Retreats in Chiang Mai, Thailand
These spiritual retreats are an invitation to rise and explore a higher degree of openess in the heart and a new level of consciousness
This was one of the best experiences in my three month trip to South East Asia. While just graduating University, unsure of my next steps in life and being far from home, this was exactly what I needed. The experience I shared with the people at this retreat will be forever unforgettable. I am truly inspired and excited to take on life's challenges.

-Breanne Burke 23, Canada
Join Mahasiddha Yoga for a relaxing and awakening getaway to the Amrita Integral Yoga Resort, only 30 minutes away from the Old City in the beautiful mountains of Northern Thailand. These soulful excursions will allow you to take a deeper look into the soul, into the intensity of tantric love and will allow you to dive deep into the silence of meditation, allowing major transformations in your life. Your heart will awaken bringing us closer to our real home, with every heartbeat, with every moment and every breath of fresh air.
The frame of the retreats, away from the day to day life, immersed in spiritual teachings and practice, offer a unique opportunity to dive deep into yourself, your spirit and your heart. Each event is potentially a life-changing experience. The schedule and curriculum is customized for maximum results and offers the student a chance to attain rapid growth, training and expansion.
Mahasiddha Yoga regularly offers retreats ranging from shorter weekends (perfect for those visiting Thailand for just a brief time), to the more extensive 7-day option, with a range of topics geared towards inner evolution. No matter how long the getaway, you'll be amazed how just a few days of focused training will have a lasting impact in your life.
Each event includes theoretical teachings, tantric yoga training, discussion and group activities, many of which you can take back and apply in your everyday life, allowing you to experience long-term results. You can live a healthier, more balanced passionat, deep and rich life. We learn together how…
A typical day will include several longer and shorter meditations for awakening the a varitiy of spiritual states, extended morning yoga practice, lectures and workshop exercises. In the evening we will have a delicious, conscious dinner together then conclude with a special evening activity.
Retreats are all inclusive, providing transportation from Chiang Mai to the Amrita Integral Yoga Centre, 3 delicious vegetarian or vegan meals per day, extensive teachings and printed course materials. You'll sleep soundly in your well-appointed single, double or deluxe room in the ashram palace, which is specially designed in the Indian Feng shui tradition of Vastu. In the breaks you may enjoy the rich surranding nature, the beautiful ashram gardens and refresh yourself in the saltwater pool. Early bird promotions are always available so join our mailing list and check our website regularly so you're up to date on the latest happenings with Mahasiddha Yoga.
Time well spent. A beautiful sacred location. Uriel and Blandine delivered a beautiful retreat that enriched my soul and has helped give me more tools to live a fullfilling and conscious life.

-Philip Nettle 45, Australia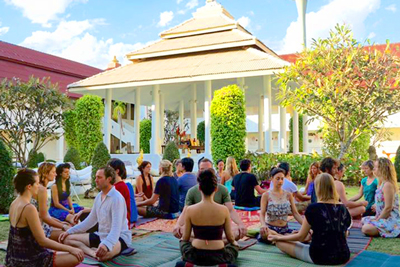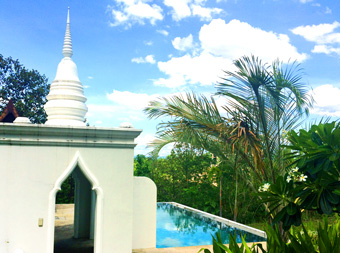 Join us for our next retreat!
contact us at TantraYogaChiangMai@gmail.com or call us at 
0613-784-194 or 0625-833-285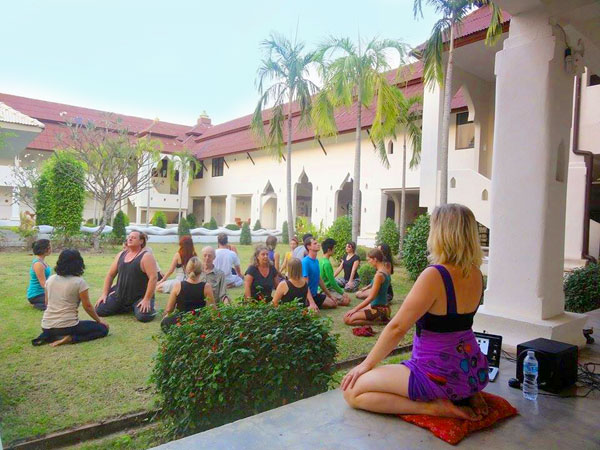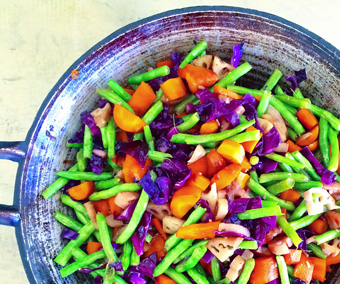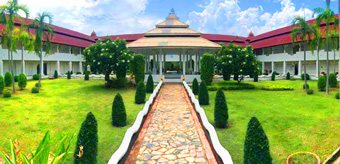 Liked the video? Wanna know what retreats are on when?
Recent themes have been:
Detox and cleansing of the body
Attendees performed the ayurvedic purification method of Shankaprakshalana: a deep intestinal cleanse that removes years of built-up impurities. Our teachers provided their expertise and supervision to ensure the cleanse was carried out safely and effectively. Participants also enjoyed clean, light food (required for such a cleanse) along with meditation, lectures, and gentle yoga centered around the theme of purification. Everyone left a bit lighter than when they arrived.
Next one coming up in September
Silent meditation
During this relaxing, initiating and awakening 5-day meditation retreat, we entered the mystery of our souls through the depth of silence. The schedule included meditations, yoga and other practices, lectures and workshop activities to take us closer and closer to our true essence, to our inner most core. We celebrated the silence of the heart in wonderful company and a warm, welcoming and loving environment.
Next one for New Year's
Journey through the chakras
This event is a day to day journey through the seven energy and consciousness centers of the being, the seven Chakra-s. We will explore each level with yoga practice, meditation, lectures and workshop exercises. The seven Journey through the Chakras Retreat is ideal for beginners and yet a great incentive for advanced yoga practitioners. 
Next one in January 2016
Mystical tantric exploration and lucid dreaming
During this five-day retreat, we explored the realms of tantric mysticism, diving into lucid dreaming and altered states of consciousness. Through workshops and lectures, we studied and practiced:
– Lucid dreaming
– The art and stages of meditation
– How to identify altered states in meditation and how to move further from one level of consciousness to the next one.
– The art of concentration and focus
– Altered states of consciousness
– Kashmirian shivaism
– the five elements and their spiritual powers
– The yoga of Light, Tarka yoga
– The yoga of fire
– Hatha yoga
– Deep meditation.
– Identification and Connection from heart to heart, soul to soul
– Spiritual texts of tantra, yoga and spiritual wisdom
Come join our Chiang Mai Yoga family and explore the depths of your soul. You'll leave a transformed person with a rejuvenated spirit and a new zest for life. We hope you'll join us for our next event!
**Please note: Smoking, eating meat, drinking coffee and consuming alcohol or drugs is prohibited on the site.
Magical, wonderful, spiritual! Those are just a few words to describe a wonder-filled week with the Tantra Yogis. Me and my 8 month old daughter felt welcomed, included and loved. Our hearts were wide open and our souls connected deeply with every single one of the other beings. The week at the Ashram was mindful and a treat for body and spirit. It was exactly what we needed and I would go back any time.  

-Grit, Germany
One word, TRANSFORMATIONAL! Pretty much any event put on by Uriel, Blandine, or Angela is going to transform you beyond words, as long as you're open to it. Their overflowing compassion, heartful love, wise guidance, joyous laughter, and non-judgmental being was a beaming and refreshing light in my life. I left feeling a mix of emotions: grounded, happy, relaxed, peace, joy, hope, fulfilled, satisfied, and most importantly LOVED. Not just by them and all the other beautiful souls that attended, but by ME! The best and most complete love out there, loving and accepting youself unconditionally. 

-Jenny, USA
Words could never describe the incredible experiences I had in the retreat.
I think this was one of the best thing I have done. Such a loving, powerful and meaningful experience.I learned how to find peace, strength and love in everything and everyone.
And the most wonderful thing was the privilege to be part from a new tantric family, a combination of amazing people who are connecting in a very deep and loving level. I recommend this retreat experience to every being.

-Neta, Israel
How a retreat looks
A retreat is an intense package of theory, practice and yogic lifestyle. Staying together at the beautiful Ashram it is easy to let go of every day habits and follow a cleansing and balancing lifestyle for a few days or weeks. The retreats offer profound theoretic knowledge and intense practice to feel the impact of the yogic practice in a matter of days and have a life changing experience. Also we enjoy being in nature peacefully and quietly swimming in the pool and gazing out on the mountains.
Our retreats are mostly hosted at Amaravati Ashram in Mae Rim a 20min drive from Chiang Mai. The prices include accommodation in lovingly decorated single or double standard rooms or in beautiful deluxe rooms. We offer delicious vegetarian and vegan food three times a day. Prices include all meals and drinks.
I've been to four of Uriel and Blandine's retreats (so far).  Each one is different, but they all have one thing in common: they are always thought-provoking, illuminating, centering, fun and inspiring.  Uriel and Blandine know their stuff and are very loving and innovative.  The retreat center is gorgeous and the food is healthy, creative and super yummy.

-Allison Rossiter, 51, Texas 
Disclaimer for people with mental health issues
Kindly note that for people who suffer from mental health issues, or are currently on antidepressants or other psychiatric medications, we strongly recommend not to join our courses or retreats. For those who do, however, decide to join, they do so on their own responsibility.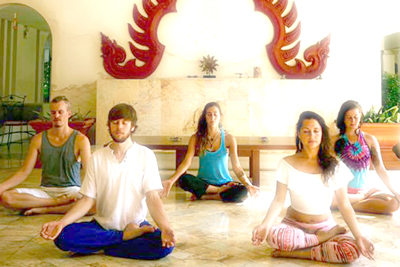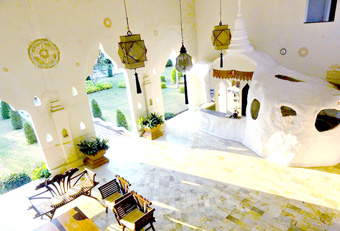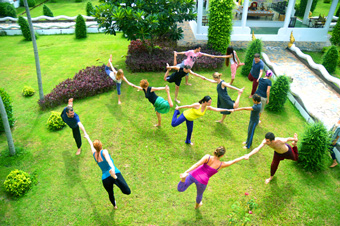 Retreats that we have done so far ...